Square Enix Joint Venture Starts Production on Educational Games in Japan
Games can be serious business.
About two years ago, Square Enix formed a joint venture with a textbook publisher called Gakken. Their new company was called SG Labs and would utilize Square's development experience and Gakken's knowledge base to make games for the "serious games" market, a market that tries to meld the gaming industry with areas of public health, training, education and public policy.
After years of relative silence, there was finally some new activity from SG Labs yesterday, as it announced that it had several games in production for the DS and for mobile phones.
It also revealed details of its development philosophy and stated that it involves making games that require a high degree of concentration and are addictive but not tiring. It feels that this will facilitate a more pleasant learning experience that will encourage people to play these games over and over, and as a result, players will learn more efficiently and effectively.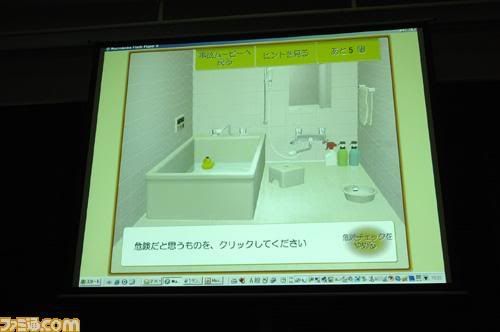 SG Labs President and CEO, Tetsuya Maeda, unveiled several unfinished games at the press conference; of these, two were of particular note. The first is a training program for doctors learning how to perform women's cardiovascular surgery, and the second is a game that teaches parents how to avoid accidents with infants in potentially dangerous areas like the bathroom. As of today, SG Labs is still the only Japanese developer that works on these kinds of games full-time.
The serious games market is still relatively small at the moment, but with big time publishers like Square Enix jumping into the fray, it may just manage to find a larger niche for itself.
[Original source: Famitsu]