Nippon Ichi Wants You to Fill in the Missing Pieces
"You need to look at the big picture."
Nippon Ichi has released screens of an intriguing action/puzzle hybrid that they call Jigsaw Battle World.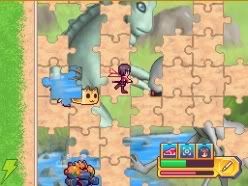 Details are scarce at the moment, but it seems as if players will run around a board competing for pieces of an incomplete puzzle in a free-for-all brawling environment. Once a puzzle is completed, information about it will be added to game's help desk, providing an additional incentive for collection fetishists.
The game features five initially available characters including Disgaea demoness, Etna. Three unlockable characters have also been announced, but their identity remains a mystery. Each character has a unique skill that can be unlocked when they fit enough pieces into their proper spots.
Wireless play will be supported for up to four players or bots, and there will be a full-fledged story-mode, so it's not just a party game.
[Original source: DS Fanboy]